by BLOOMBERG
Gold declined as the dollar remained resilient and 10-year Treasury yields held near the highest level in more than a year, while investors looked to key U.S. bond auctions to gauge demand for havens amid the economic recovery.
The metal fell after two weeks of gains which saw it stage a partial recovery from its dismal performance at the start of the month. It remains down nearly 9% this year amid pressure from higher Treasury yields, which make non-interest bullion seem less attractive.
Gold is facing "some resistance from the top of the recent downtrend so I'd say it's consolidating," said StoneX analyst Rhona O'Connell. Still, she sees it edging higher on "improving physical demand and masses of liquidity looking for a home."
Traders will turn their attention to a heavy slate of bond auctions which will provide an indication of appetite for havens at a time when investors are repositioning for an economic recovery. Federal Reserve Chairman Jerome Powell reiterated in a Wall Street Journal editorial that the central bank will continue to keep monetary policy loose, while Richmond President Tom Barkin played down concerns of persistent unwanted inflation, which would hurt demand for Treasuries.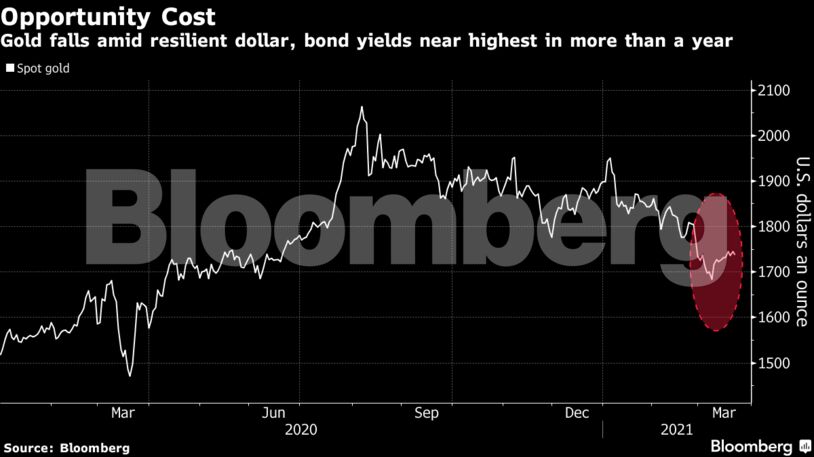 Bullion has suffered severely from a general rotation away from havens into riskier assets, though its role as a hedge against inflation has helped give some support to prices. On Friday, the Fed said it'll let a significant capital break for big banks expire at month's end. That saw the dollar and bond yields tick higher, with the latter holding near its highest levels in about 14 months on Monday.
For gold, "generally speaking the tendency is for lower prices given that U.S. yields are rising sharply," said Bernard Dahdah, senior commodities analyst at Natixis. "There is a little more risk on the downside as we would expect good results from the vaccination campaign by this summer"
Spot gold fell 0.7% to $1,733.39 an ounce by 10:59 a.m. in London, after rising 0.5% on Friday. Silver fell 2.4%, while platinum and palladium also retreated. The Bloomberg Dollar Spot Index was little changed after two days of gains.
Meanwhile, Powell and Treasury Secretary Janet Yellen are expected to make their first joint appearance before the U.S. House Financial Services committee to testify on Fed and Treasury pandemic policies Tuesday.