By Bloomberg
Oil prices have fallen by about 10 dollars a barrel since mid-April, a decline of some 20 percent that qualifies as a bear market. The technicals for oil prices are bearish, showing a trend of lower highs and lower lows, and prices well below critical moving averages. But oil producers and analysts are looking at the wrong fundamental data to explain what triggered the move lower — and what will continue to drive oil prices in the near term.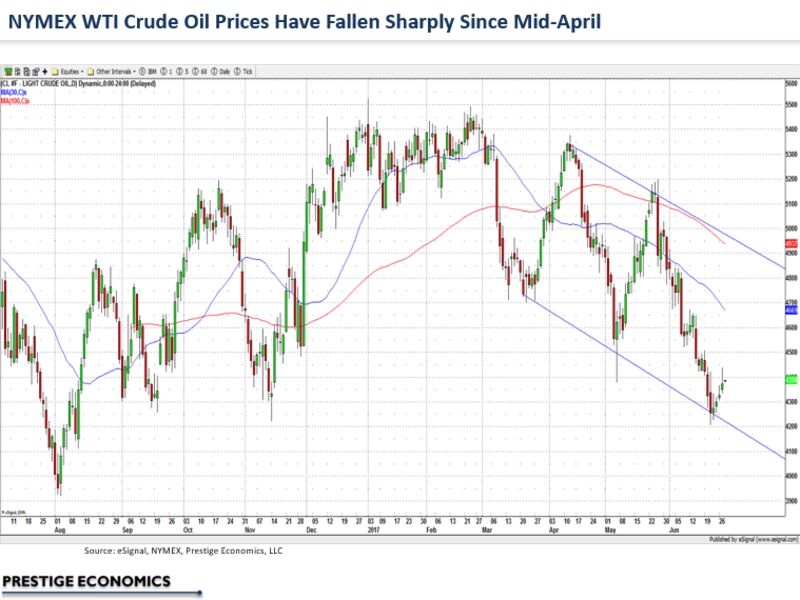 The most important piece of data to watch for oil prices over the next few weeks won't be the Baker Hughes rig count, the weekly U.S. Department of Energy inventories or even the June U.S. employment report. It will be the Chinese Caixin manufacturing PMI, set to be released late Sunday evening New York time, that will determine the cadence for oil prices over the next month. China is the world's second-largest consumer of oil and one of the largest sources of additional, marginal global oil demand. China has been the largest net importer of petroleum since 2014, when it surpassed the U.S.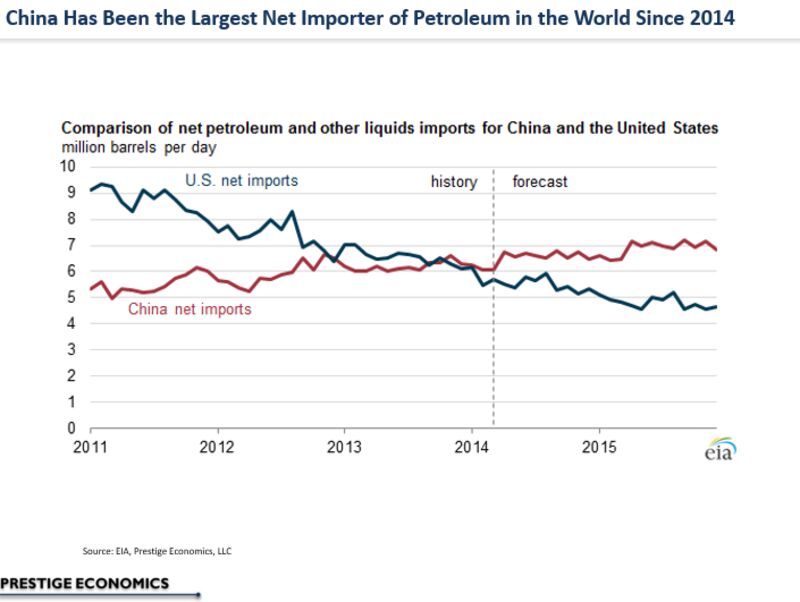 Oil producers and analysts have been very focused on shale oil production and supplies to explain every recent move in oil prices, even though the supply-side data alone falls woefully short. Recent U.S. crude oil inventories don't explain the recent price decline. After all, U.S. crude oil inventories stood at 1.224 billion barrels in mid-April and are now at 1.192 billion barrels. In other words, inventories have fallen as prices have declined sharply. Because of this seemingly divergent set of conditions — where supply has fallen, but prices have also fallen — it seems clear that the culprit behind the recent drop in oil prices is not on the supply side of the market.
While inventories have shrunk, North American oil rig counts have risen from 683 in mid-April 2017 to 758 in mid-June. That's a 10 percent increase over the past two months, but the year-over-year rates are not that significantly higher. And the rise in rig counts does not represent an earth-shattering change in oil production, nor does it justify the magnitude of the drop in West Texas Intermediate crude prices.
So while the supply side of the crude oil market has been mixed, the demand side has fundamentally weakened the past two months. And the most important proxy for global oil demand growth — and for global growth — is the Chinese Caixin manufacturing PMI. This purchasing manager index is a survey of private small and medium-sized manufacturing companies, and it is a leading indicator of growth in the world's second-largest economy. The private compilation of the Chinese Caixin manufacturing PMI data, as well as the smaller size of the companies responding to the surveys, makes this the only piece of Chinese data that I consider to be of value because it is less likely to be influenced directly by the Chinese government or indirectly by government policy.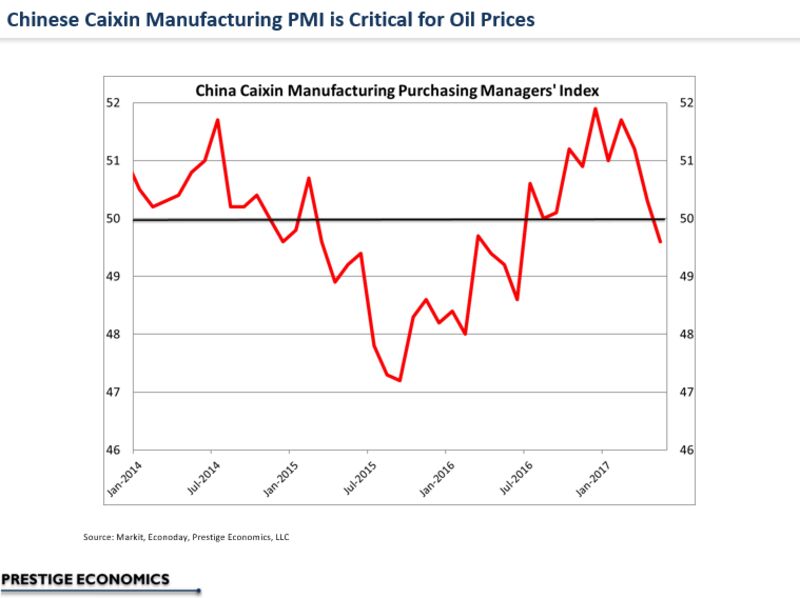 When the Chinese Caixin manufacturing PMI is below 50, the index conveys that monthly manufacturing activity has fallen. And a number of consecutive monthly readings of a PMI below 50 is a leading indicator of recession. This index was below 50 in 18 of the 19 months between December 2014 and June 2016, indicating that China was in a manufacturing recession during that period, despite assertions by the government that GDP growth rates were 6.9 percent in 2015 and 6.7 percent in 2016.
Weekly Nymex WTI crude oil price technicals (blue horizontal lines) reflect that oil prices have not recovered from the Chinese manufacturing recession of 2014-2016, though prices rose when the Chinese Caixin manufacturing PMI stopped contracting, and rose above 50 in mid-2016.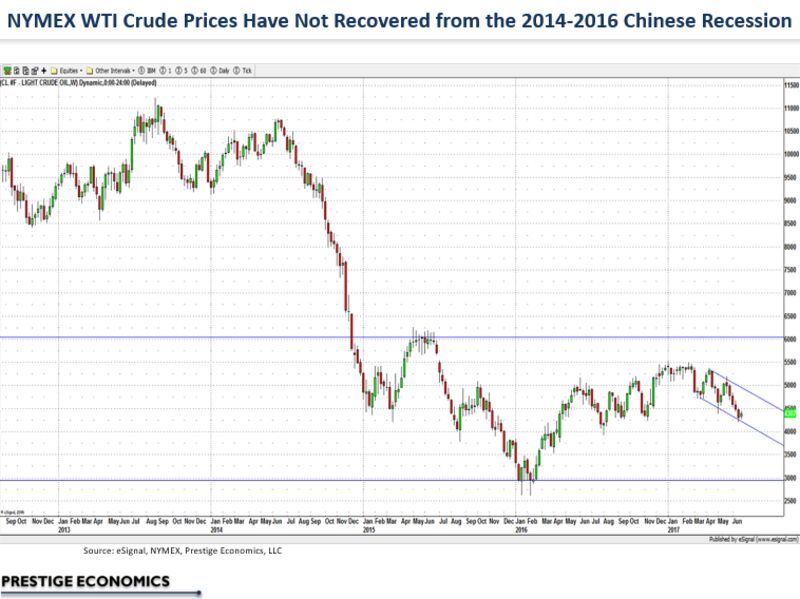 Crude oil prices have fallen over the past two months because the Chinese Caixin manufacturing PMI decelerated sharply in April and fell below 50 in May. Market participants are concerned that the trend of Chinese manufacturing contractions that ended in June 2016 could resume. A reading below 50 would indicate that Chinese manufacturing has contracted for a second consecutive month. This would likely prove bearish for crude oil prices. A move in the Caixin manufacturing PMI closer to 50 — or back above 50 — would be positive for crude oil prices. And this would likely play out during the month of July.
Oil traders should be less concerned about the supply side of the oil market, and they should be focused on the demand side — and the risks of China's return to a manufacturing recession. But if the June Chinese Caixin PMI rises above 50 and growth resumes, oil prices are likely to rise persistently during the month of July.